Electromagnetic vibration feeder simple structure, convenient operation , power consumption is small; Can adjust evenly to ore amount; So has been widely used. Electromagnetic vibrating feeder is in the material from the bunker or other storage device or even the supply of quantitative is expected in the equipment, is a necessary equipment for automation flow operation to open type and closing two points. Generally for loose material. It is used for the pharmaceutical, glass, food and chemical processing, steel, plastics, rubber and fertilizer industries. Additionally, electromagnetic vibrating feeders are specially applied for industries that involve non-stop processes. So that it can handle slightly wet, heated, dusty, lumpy and abrasive materials, electromagnetic vibrating feeders are applied in batching, weighing, packaging, blending, sprinkling, proportioning and storage.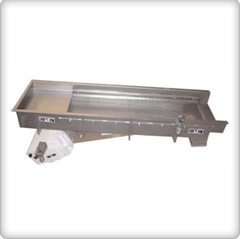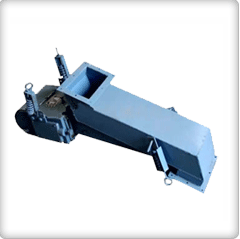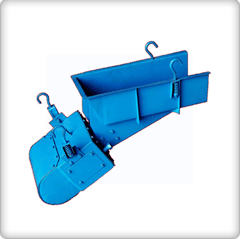 WORKING PRINCIPLE:
A vibratory feeder is a device that uses vibration to "feed" material to a process or machine. Vibratory feeders use both vibration and gravity to move material. Gravity is used to determine the direction, either down, or down and to a side, and then vibration is used to move the material. The material is almost always a dry material that unlike a liquid, may not move down an incline without some assistance from the vibration effect. The vibratory feeder comes in many shapes and sizes but all uses the same principle, which is to feed bulk material in at the top in an uncontrolled fashion and take material out at the bottom at a controlled and steady rate.
Design Flexibility
Our experience and longevity in the market have resulted in a variety of deck models.
Tubular
Grizzly
Enclosed
Open
Conveyors with Multiple Power Units
Decks with Screen Sections
APPLICATIONS:
APPLICATION AREA:
Flow-extraction from silo / hopper
Flow-regulation for weighing equipments etc
Flow-feeding for / in processing lines
APPLICATION INDUSTRY:
It is been widely used in the food, mining, cement, refractory, iron ore, coal feeding, feed, chemical and the pharmaceutical industries,etc.