Our Pneumatic Ball vibrator was created by the high centrifugal force produced by a circulating steel ball, which runs on hardened, polished steel races.
Ball vibrator is equipped with steel ring and ball inside .It is tightly sealed by plastic side covers.
The frequency, and hence the centrifugal force, can be continuously regulated via the operating pressure. ball vibrators can be operated using lubrication free compressed air.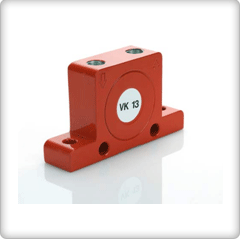 FEATURES:
Low price and durable
Special aluminum alloy, small size, light weight
Fine enclosure protection can be applied in high humidity or dusty working area
Frequency and amplitude of vibration can be adjusted as required
APPLICATIONS:
Our pneumatic ball vibrators can be used wherever bulk materials need to be moved
The special feature is the simple construction
They serve in the emptying of bunkers, for preventing bridging, rato-holing and adhesion
When used to drive chutes, sieves and vibrating tables, they ensure that the material flow is maintained