MAGWELL Electromagnetic vibrators are of a simple design and robust construction to ensure long, trouble-free operation. Most models come standard with totally enclosed. The intensity of vibration is variable over a wide range through a suitable controller which ensures a steady uninterrupted flow of material under varying conditions. Since these vibrators have no rotating or sliding parts, they are virtually maintenance-free.
Vibrators offer an economical means of maintaining the flow of bulk materials from bins, hoppers and chutes. They come with an easily adjustable control, which provides flexibility and assures optimum flow for the type of material being handled. Furthermore, MAGWELL Electromagnetic Vibratorscan be operated continuously or intermittently depending upon the specific requirements.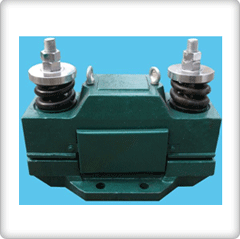 Each Vibrator is supplied with a separate control unit consisting of a switch, fuse, rectifier rheostat. A.C. input to the rectifier is converted to pulsating D.C. which is then supplied to the Vibrator coil thus generating powerful Vibrations at a frequency of 3000 vibrations per minute. The Vibrators are designed for continuous operation.
FEATURES:
Wide range of sizes
Low noise models available
Adjustable control
Productivity enhanced performance
Electromagnetic design
Simple design, durable, rugged construction
APPLICATIONS:
The special feature is the simple construction.
Our Electromagnetic vibrators can be used wherever bulk materials need to be moved
They serve in the emptying of bunkers, for preventing bridging, rato-holing and adhesion
When used to drive chutes, sieves and vibrating tables, they ensure that the material flow is maintained