MAGWELL Vibratory Bowls are suitable for feeding components for subsequent operations on special machines in cosmetic, electrical, mechanical, pharmaceutical, optical, bearing and many other industries.
In our design of the bowl feeder, the vibrations are created in spiral fashion so that the components placed on the bowl which is fixed to the vibrating unit start moving round and round. The bowl being custom built for the particular component, has a peculiar geometry.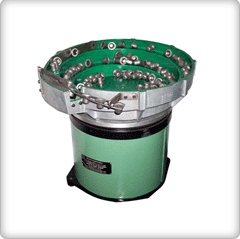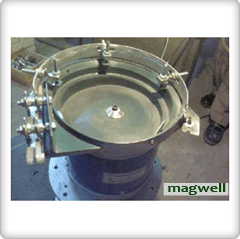 As component moves round and round up the track till it gets oriented and comes out in the desired form. This process of orienting is very useful on assembly line and packing operations, as no manual labour is employed for feeding of components.
APPLICATIONS:
The components can be plastic caps, spouts, capsules and electrical connectors, bearings as well as heavy parts such as anchor bolts, bearing races and metal sockets. Even oily parts! MAGWELL offers total design, tooling, and manufacturing services for custom Vibratory Feeders.