Magwell Magnetic Scrap Drums extremely well at ferrous removal in all applications. They have no dead spots and work with larger operating gaps. They yield a clean ferrous product and clean bulk materials. They protect processing equipment from damage by tramp iron.
We offers both electromagnetic (E) and permanent magnet (P) cores. They can be fed from the top or from below. Our company has highly qualified engineering design and development. Our Magnets are increased efficiency, durability, and long operating life.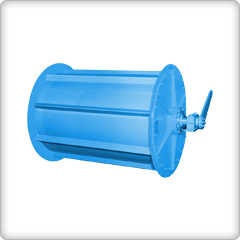 SCRAP DRUM SEPRATOR:
Bulk raw material is distributed evenly with a vibrating feeder system on to a rotating magnetic drum. Any magnetic pieces attracted to the drum shell and is carried to the point where the magnetic core ends. The non-magnetic particles have fallen off before this point. With material and drum going in the same direction, the flow is easy to handle and ferrous losses are small. Even when the material is large, small or mixed, the size of the particles usually determines the diameter of the drum.
Our Patented Coil Design develops deep magnetic field with minimum DC power cost. Our electro-magnet drum opens the way to new efficiency in handling large volumes of large size material encountered in today's scrap processing and mineral concentration applications. Our patented coil construction produces a concentrated deep magnetic field to maximize ferrous recovery. The drum consists of an electro-magnet assembly mounted inside an outer rotating drum assembly. The magnet assembly position, although stationary during operation, may be adjusted within certain limits to meet varying feed arrangements.
FEATURES:
We can supply customer requirement size design
Available in permanent or electro magnet models
Thick manganese steel shell with 50-75 mm stainless steel vertical cleats
Fabricated heavy duty end flanges with 50-75mm high side skirts
Available in Stainless steel & Aluminum end flanges
Heavy duty sealed bearings
Heavy duty drive option
Suspension or base mounted support stand options
Robust construction and easy handling and installation
APPLICATION:
All Type Recycling Plant
Shredded Scrap
Municipal Solid Waste
Foundry Sand
Bottom Ash
Glass Cullet
Wood Waste
Pre-separation of ferrous before Eddy-Current separators.