MAGWELL MAGNETIC GRILLS are easy to install and clean. They offer efficient, economical magnetic protection of processing equipment such as; milling, extruding, and mixing, while at the same time improving product purity.
MAGWELL MAGNETIC GRILLS are designed to remove medium and small-size ferrous tramp metal contaminants from dry, granular free-flowing product streams in gravity-fed vertical Chutes, hoppers, housings, surge or catch bins.
MAGNETIC GRILL SELCTION FACTORES:
MAGWELL products consistency, density and moisture content, which influence flow characteristics, are important factors in grate magnet applications. To choose the correct magnetic grate to ensure positive flow, it is important to recognize materials that have tendencies to bridge between the magnetic tubes. While diverter systems are helpful in directing the material flow to the magnets, caution needs because it has tend to increase bridging and reduce uniform product flow.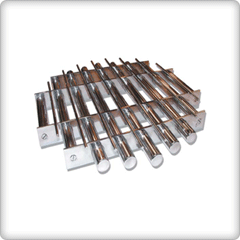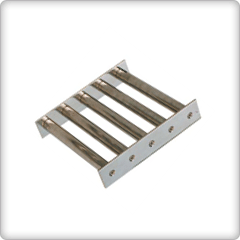 FEATURES:
Round, square, and rectangular arrays come in many sizes.
100% stainless steel enclosed design.
Rugged all-welded construction.
Quick-clean designs.
Place in hoppers, receiving pits, housings, chutes and bins.
Custom grate sizes and mountings to meet design criterion.