MAGWELL Dewatering Screen is available in different models to efficiently dewater up to 300 TPH. While most concrete and masonry sands typically retain from 18 to 25 percent moisture, the MAGWELL Dewatering Screen cuts that moisture down to as low as 10 percent—providing salable material in less than a day.
A high-frequency liquid/solids separator allows producers to easily adjust bed depth, table tilt and vibrator variables to remove up to 50 percent of the water, no matter how wet the material is. The urethane deck dewaters a broad range of particle sizes and can preserve fines smaller than 200 mesh.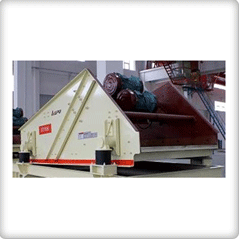 WORKING PRINCIPLE:
Dewatering screen adopted dual vibration motor as power supply. The double vibration is installed parallel, when they are running at the same time, centrifugal force is produced by two groups of eccentric block. Centrifugal force along the direction of vibration is superposed, otherwise it is offset. Thus form a single centrifugal force which along the direction of vibration, which makes screen box affectation reciprocating linear motion. The screen frame is connected by the high-intensity bolts, so the structure is stable and durable.
FEATURES AND ADVANTAGES:
Effectively reduce the fine sand losing quantity, and make it in the scope of 5-10%
The vibrating screen utilizes polyurethane screen cloth, which has longer life compared with others and uneasy to be blocked
The polyurethane lining increases the longevity of the whole equipment, and makes the whole procedure more efficient
Reducing nature stock time of the fine material, they can be transferred directly and supplied to the market
Collects 85% of the sand in the mixture, which outstrips other equipments. So it has unsurpassed technology and economic advantage compared with other equipments
We can design corresponding solve project according to our consumers, different requirements
APPLICATIONS:
Action Sand washing and dewatering
Mineral classification
Dewatering tailings
Ore processing
Effluent wastewater regretting
De-sliming processes
Pre-thickening